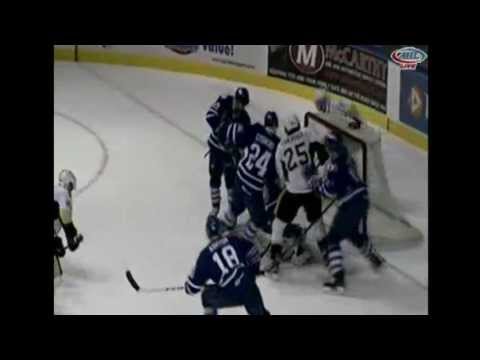 Saturday's performance from Ben Scrivens was a stand-out one for the third-year pro.
I don't want to pretend I'm a fancy shmancy hockey analyst – because when it comes to breaking down the forecheck or explaining the trap I'm all thumbs – but Scrivens' poise, timing and sheer dominance looked to be the best he has put forward all season (not taking anything away from any other game – especially not his shutout).
Yet it seems the Urim and the Thummim did not fall in the Marlies favour (how's that for a historical reference).
http://twitter.com/MarkUkLeaf/status/272535038292267008
Following four straight road victories, the team has now found themselves on the losing end of three. A fate which head coach Dallas Eakins believes isn't all deserved.
After having played their two home games of the month last weekend (both victories, might I add) the Marlies look forward to a December with far less mileage. The Toronto club will travel three times for a total of four games, all of which within driving distance.
In an effort to keep this one short, I'm going to end off with a little bit of #MarliesLive awesomeness. Very impressed by the outpouring of support following the game:
http://twitter.com/SimplyUltraBlue/status/272531565811212288
http://twitter.com/lauren_nicole30/status/272531852500287488
http://twitter.com/EnricoSuave99/status/272532127223013376
http://twitter.com/Ingar43/status/272532603159060480
http://twitter.com/GOLEAFSGO9317/status/272537300540456960
http://twitter.com/LeafsJenn/status/272542901597257728
Goodnight friends, we'll chat in the morning with the Game Day Blog.