It's been quite the week for Ricoh regulars and Marlies faithful alike.
I'll delve into the individual accomplishments in a minute, but first I think it's appropriate to just appreciate the past ten games for the Marlies. Despite key injuries, the club has put up a 7-2-1-0 record. Without a team effort, individual success is quite tough – and generally appreciated somewhat less.
Following a rough start after a shortened offseason, the club broke out the steam roller and is tackling every obstacle thrown its way. The Marlies now sit two points out of the division's top spot with a game in hand over Abbotsford, and five points out of first in the conference with three games in hand on Charlotte. Looks like this holiday stretch is an important one for the blue and white.
Now this is the part of the awards ceremony when you get to sit back in awe of how tremendous the talent surrounding you really is. It's where your hands turn red from clapping, and you hope your cheers are as vigorous for the last as it was for the first.
Keith Aucoin – 800 points – 11th All-Time AHL Scoring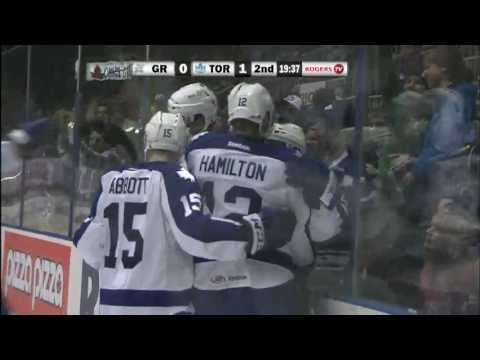 It's incredible when you think of what it takes to collect 800 points. Not to over simplify, but that's ten straight seasons at 80 points. For Aucoin, three of the last six have been over 90. With recognition that they played mostly in different leagues, a quick comparison with Mats Sundin shows an almost equal point total consistency over the course of their careers in their respective leagues, fortifying the importance Aucoin holds to the American Hockey League – as well as the spot his filled when journeying to the NHL.
If making 11th overall isn't enough, Aucoin is quickly chasing down 10th place. The veteran forward will tie it with one more point.
Jussi Rynnas – 7 Shutouts – 1st All-Time Marlies Shutouts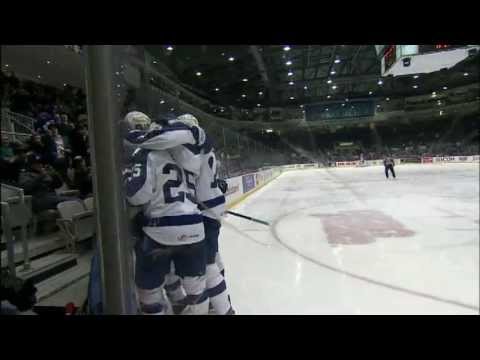 It's been an interesting journey for the Marlies netminder. It seems as if misfortune as struck each season just as Rynnas finds his stride. By all accounts, the 2012/13 campaign looked no different. After three wins, two shutouts and a shootout loss to open the season, Rynnas was forced to the sideline with a lower body injury. The Finnish goaltender waited more than a month between starts as his body mended itself. But when he returned Rynnas hadn't seemed to have missed a beat, posting a 5-0 shutout win against Grand Rapids.
Rynnas' shutout, the eighth of his AHL career, leapfrogged the record set by Justin Pogge in 2007/08. What might be most impressive is that Pogge set the record playing the bulk of the club's games, while Rynnas has done so primarily as the team's second string goalie. Ready for another Maple Leafs comparison? Everyone's favourite netminder, Felix Potvin, spent four years with the Maple Leafs before posting his seventh shutout, six years before posting his eighth and  finished his time in Toronto with 12. Rynnas hit seven before the midway point of his third season.
Ryan Hamilton – 75 Goals – 1st All-Time Marlies Goal Scoring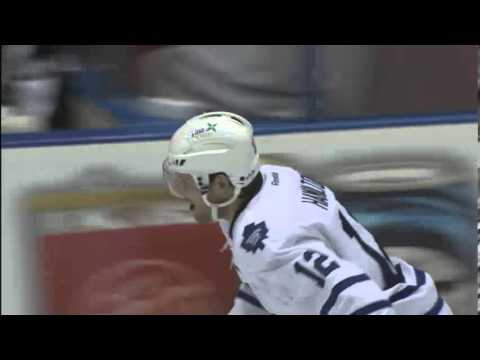 With the Marlies now in their eighth season in Toronto, we have all had enough time to get used to the frequency of playing movement in the AHL. Ryan Hamilton joined a Marlies club as part of a trade for Robbie Earl at the tail end of the 2008/09 season. I just took a look down that season's roster. Hamilton's the last player standing, proving himself worthy of the crest, the sweater and the city through Brian Burke's overall of the 'cupboard.'
Here's something even a little more fantastic. Despite injuries in his first two full seasons in Toronto, both of which kept him out for 30-plus games, the now-captain finished each campaign as the team's leading active goal scorer. Not too shabby. With his first full healthy season 2011/12, Hamilton showed his goal scoring is by no means an anomaly, leading his team with 25 goals and bringing them through three successful playoff rounds right to the Calder Cup Finals.
His all-time goal scoring record with the Marlies is fitting. He personifies perseverance, consistency and hard work. Everything you'd expect of a man inked in a team's record books. Although I am without a Maple Leafs counterpart for Hamilton, the present captain is five points away from scoring more points than any other previous Marlies captain.
There's something special about the team this year. It's not found just in the records set or the wins garnered. It's resides in their ability to battle adversity, overcome obstacles, and come together as a unified group.
The fact that we have seen a week filled with such tremendous accomplishments only acts as outward proof of what is going so well inside the locker room.
***
With four assists on Saturday, Keith Aucoin leapfrogged into the tenth all-time AHL scoring slot.