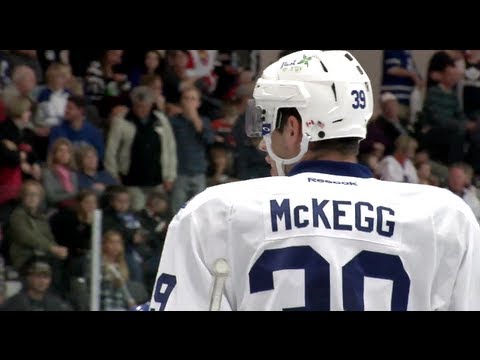 Flying high after a big win in front of a capacity crowd, the Toronto Marlies will look to do it all again on Sunday as the Lake Erie Monsters come to town. That's makes back to back divisional games for the Toronto team.
It seems like almost every wild game I can remember the Marlies being involved in happened against Lake Erie. There was one night in Cleveland where the Marlies seemingly scored although it was never recognized by the officials, not that I blame them; the puck went right through the net. Another goal disallowed entered and exited the top of the net so quickly the officials believed it hit the cross bar. All at home were granted the privilege of instant replay, while at the time the league was still a little ways off from adopting the goal review method. And who can forget Patrick Bordeleau's hit on Matt Lashoff, putting the then Marlies rearguard out for the majority of the season with a lower body injury.
There have been some crazy times at 'the Q' (the Quicken Loans Arena, home of the Monsters). That's probably why I'm thankful that for the first meeting of the season, the Cleveland team will travel here to Toronto. It allows me to keep a better eye on things.
Here's what I scribbled down regarding tomorrow's meeting:
Toronto won six of ten meetings against Lake Erie last season, collecting 13 of a possible 20 points
When facing the Monsters, Toronto's powerplay efficiency (8.0%) and penalty kill rate (82.5%) were far below both season averages
Joe Colborne and Jerry D'Amigo lead the team in scoring against the Monsters with four tallies a piece
Both Ben Scrivens and Jussi Rynnas posted shutouts against Lake Erie, though Scrivens lead in wins (5) and goals against average (1.5)
All four goals in Toronto's 3-1 home opening victory on Saturday were notched on the powerplay (three for Toronto)
If you're a Leafs TV subscriber you'll be happy to know that you can watch tomorrow's game in high definition as the television broadcast will kick off at 3pm. You'll be greeted by the friendly faces of Paul Hendrick (@HennyTweets), Joe Bowen and Greg Millen. If you're old school and want to tune in on the radio (read: internet radio) then set your web dial to AHL Live where you can catch an audio-only web cast with Bob McGill (@bigdaddymcgill) and Jon Abbott (@HockeyAbbs) or for a small fee watch the video as well.
As always, you can find me on twitter (@chansler) as I will post lineup decisions and notes as they become available heading into Sunday's game.
Note: If you're driving down, give yourself a little extra time. Sunday will hold both the ScotiaBank Toronto Waterfront marathon and half-marathon. That'll likely mean delays and possibly even some temporary road closures. Give yourself tons of time… or take transit.
EXPECTED MARLIES LINEUP
IN GOAL: #30 Ben Scrivens
FOWARD LINES
Ashton – Aucoin – Kadri
Komarov – Colborne – Deschamps
Hamilton – Zigomanis – McKegg
D'Amigo – Acton – Scott
DEFENSIVE PAIRINGS
Gardiner – Kostka
Fraser – Holzer
Gysbers – Yeo