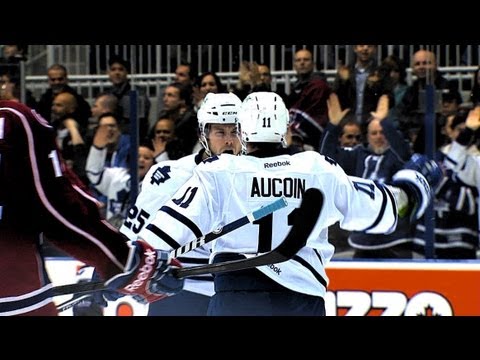 If you're anything like me, you adore tradition.
It's what huddles us all together during the holiday time even if it means sleeping in a bed at your parents place you outgrew years ago or eating that fruit cake that you don't really like. It's watching the first game of the World Junior Championship on Boxing Day, even if it means waking up at 4am.
December 26th brings another hockey spectacle. Since 2007 the Marlies have met a divisional foe in what I like to call (well.. what I stole from former play-by-play voice John Bartlett) the Boxing Day Classic. This will be the third straight year Toronto has met archival Hamilton, and for the second time they will play on Air Canada Centre ice.
It's a sellout crowd for the Wednesday afternoon game – nope, not joking in the least. The Toronto Marlies look to draw their largest crowd ever. And at the same time, make up for last year's unfortunate turn of events. You see, the Marlies had the jump on the Bulldogs this time last season, scoring three goals in the opening period. The Hamilton coach however must have had some choice words in the locker room as the Bulldogs score six straight to defeat Toronto in front of their home town crowd.
Alright, no more stalling. Here are my notes ahead of the game:
The Marlies are expected to be without smooth skating defenceman Jake Gardiner
Both Nazem Kadri and Mike Zigomanis are game day decisions; the former missing three straight, the latter has been out for four
Paul Ranger has a five game point streak, collecting two goals and five assists along the way
Ryan Hamilton has goals in four straight contests and Keith Aucoin comes off a four point game
Toronto had the league's best record heading into the holiday break (8-1-1)
The Marlies and Bulldogs have split the past two Boxing Day games with a win each
The Bulldogs have lost four straight games and five of the last six
Brendan Gallagher is Hamilton's lone player with more than 15 points (17) while Toronto has one with 30 (Aucoin), two more over 20 (Kostka and Kadri) and a total of six with 15 or more
For all of you not able to make it to Air Canada Centre, there are a plethora of listening and viewing options in order to allow you to still watch the game. Tune in on Sportsnet One as Joe Bowen, Harry Neal and Paul Hendrick bring you the action live starting at 1pm. If the airwaves is more your style, the Marlies duo of Jon Abbott and Bob McGill will have the call on TSN 1050. If you're a guy like me and are sitting on the couch with your laptop out, perhaps AHL Live will be up your alley. The audio feed is always free and the video costs only a few dollars. If you were given the gift of satellite radio over the holiday break, then adjust the dial to Sirius 207, XM 92 for today's game. For our francophone friends, TVA Sports will be broadcasting the game in Quebec.
You're lucky there isn't a test.
Enjoy the game. I know I will. Catch me on twitter (@chansler) as I'll try and update you with as much of the lineup news and notes that are provided ahead of puck drop. As always, #MarliesLive is you source for info during the game.