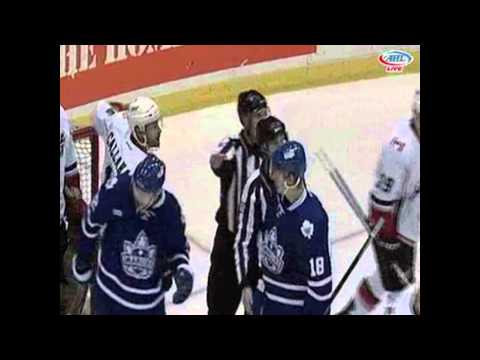 It would be the greatest understatement of the season thus far if I simply said last night didn't end the way the Marlies had hoped.
After a pair of outstanding saves from Ben Scrivens and a goal by Leo Komarov that was waived off, the Marlies must have still felt momentum heading into the third. Unfortunately two goals in three seconds dictated a different outcome.
After a heartbreaking loss, however, I received one of the most reassuring tweets from @CVS521 :
http://twitter.com/CVS521/status/264223713090736128
I chuckled.
So back at it for the second against Abbotsford in as many days, here are my notes ahead of tonight's game:
Special teams, special teams, special teams
The Abbotsford Heat penalty kill has battled the past two seasons for the top in the league, and shows no sign of slowing this year as they have allowed only one goal against on 37 times shorthanded (97.3%)
The Marlies powerplay was unable to tickle the twine in nine attempts on Thursday night, falling to 28th in the league
Abbotsford scored twice on the penalty kill and, after confirmation comes from the league, will hold the AHL record for two quickest goals scored by one team (3 seconds)
The Heat rank fourth in the league with 16 goals against
The Marlies are 3-3 against divisional rivals
For all of you in the great city of Toronto, you'll be happy to know you can tune into tonight's game on TSN 1050. If an internet stream is more your style, the free AHL Live radio feed may be more to your liking, or for a couple dollars you can watch the game from the comfort of your computer. And to all those more technologically advanced than I am, Sirius 207 / XM 92 will also host Friday's game (but you'll have to put up with the Abbotsford radio tandem – not nearly as fun as Jon Abbott).
As always, if lineup news & notes are your thing, follow me on twitter (@chansler) for the low down when it becomes available.
***
Rookie tandem Brad Ross & Spencer Abbott, are both expected to play in their first game of the regular season. Brad Ross concluded the short two-game preseason schedule with a goal.
Coming out in their place is likely to be Will Acton and Nicolas Deschamps, both missing games for the first time this season.
Mark Owuya is expected to start, Jussi Rynnas will back up.
EXPECTED MARLIES LINEUP
IN GOAL: #1 Mark Owuya
FOWARD LINES (subject to change)
Ashton – Colborne – Komarov
Hamilton – Kadri – Zigomanis
McKegg – Aucoin – Ross
D'Amigo – Abbott – Scott
DEFENSIVE PAIRINGS
Fraser – Holzer
Gardiner – Kostka
Blacker – Ranger