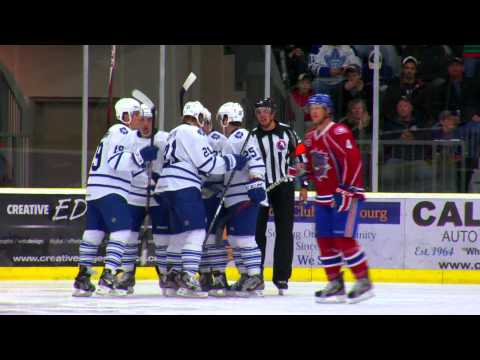 Two games in three days reminds us all that the hockey season is back.
Especially when the calendar reads five days until the Toronto Marlies home opener against the Rochester Americans.
But until points start counting in the standings, the Marlies have one last game to tinker with the roster and make the decisions necessary to fill those final few holes in the lineup. Dallas Eakins will cycle out some of those who helped lift the club to a victory in Cobourg on Saturday in the first of a two-game set against the Bulldogs. Although surrendering the early lead, Toronto's three unanswered goals secured a 3-1 win in front of a Marlies-friendly crowd.
The AHL rivals square off Monday in Brantford at the Wayne Gretzky Sports Centre at 7pm.
Ahead of the game, though, here's some food for thought:
Greg Scott lead the Marlies with six goals against Hamilton during the 2011/12 season and found that his scoring touch spilled over to this season, scoring the game winner on Saturday
Defensive partners Jake Gardiner and Mike Kostka both notched two assists on Saturday, connecting both on the powerplay and when even strength
Including Saturday's preseason match, Hamilton has been kept to one or fewer goals when facing Toronto since February 29th, 2012
The Marlies have won seven straight matches against the Bulldogs since January 15th, 2012
Although being held in Brantford, Monday's game will serve as a home contest for the Bulldogs. Toronto will likely bring out their new road blue sweaters for the first time. The Marlies primary home and away sweaters as well as a third design are all new to the team this season.
Captain Ryan Hamilton, veteran Mike Zigomanis as well as first round playoff hero Jerry D'Amigo did not dress for Toronto in the first preseason match, while former Marlies forward and recent Bulldogs signee Darryl Boyce served as one of Hamilton's healthy scratches.
Follow me on twitter (@chansler) for lineup decisions and notes as they become available. Also be sure to lend your follow to Jon Abbott (@HockeyAbbs) Toronto's play-by-play announcer who will be in Brantford as well. The Hamilton Bulldogs radio duo of Derek Wills (@dogsplaybyplay) and Al Craig (@alc17) will host the radio broadcast on am820.