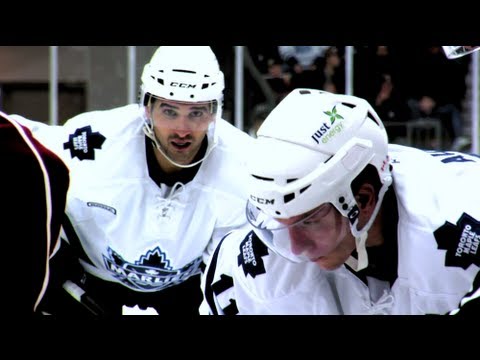 ***
UPDATE: Matt Frattin to dress for the Toronto Marlies tonight. In his 13 playoff games prior to injury Frattin scored 10 goals, 13 points. Certainly a welcomed return to the Toronto lineup.
***
As it marked the beginning of the Marlies extended time away from Ricoh, so too does it indicate the end.
The Toronto Marlies return to Copps Coliseum to meet the Bulldogs after stringing together four wins and suffering only two losses since they last squared off in a game that was ultimately decided by Simon Gysbers' overtime goal. Those four consecutive victories have seemed to reveal the club that skated away from Toronto last June, after a meteoric trip to the Calder Cup Finals.
Twice Toronto battled from behind in the third period to earn the victory, both of which came in regulation; once they shutout their opposition; and once they battled immense mental adversity to overcome a late barrage from Oklahoma City's top talents to earn the extra point in overtime.
The Marlies return to Hamilton a newfound team. Revitalized by the road, bound together with the glue congealed through overnight bus trips, hotel breakfasts and thousands of fans voicing their discontent every time you ink yourself on the scoresheet.
Enough with the pretty words, let's get down to business. Here are my notes ahead of Friday's game:
Toronto leads the series 2-1 against Hamilton, though the extra victory came by way of the overtime granting a single point to the Bulldogs
Keith Aucoin leads the charge, picking up six assists over the past two games against Hamilton
It's been a tough go for Hamilton, who have lost their last three and secured only four victories in 11 games this season
Cedrick Desjardins continues to progress towards a return in goal for Hamilton and presently listed as day-to-day
Jussi Rynnas is expected to start in goal, having shut the Bulldogs out in his only other meeting this season
Toronto's powerplay is running up the standings (now 20th) after a slow start by scoring five times on the past 15 opportunities with the extra man
Leo Komarov has scored four times in his past three games, Mike Kostka has six points in his past three and Nazem Kadri has four in his last two
If you live in the Hamilton area, catch Friday's game on Cable 14 – but you'll have to put up with the home broadcast duo of Derek Wills and Al Craig. For me, I'm going to tune in to Jon Abbott has he calls the game AHL Live starting at 7:30. The audio feed is always free, but if video is your thing it'll only cost a couple dollars. For our friends in Quebec, I believe you will be able to catch the game on TVA Sports (but only if you cheer for the Maple Leafs affiliate).
When the team returns home Saturday and Sunday, both games will be broadcast in HD – so don't you fret if you don't catch Friday's video feed.
As always, find me on twitter (@chansler) for the latest lineup news and notes as they become available.
Oh – and if you haven't yet, check out the first in a video series profiling the rivalry between the Marlies & Bulldogs. Part one is embedded up top as it looks into the history books and recognizes the roots of the AHL rivalry, deep within decades of competition between the Maple Leafs and Canadiens.
***
After Rynnas sustained a minor injury in practice, Ben Scrivens is set to start with Mark Owuya in the backup position.
EXPECTED MARLIES LINEUP
IN GOAL: #30 Ben Scrivens
FOWARD LINES (subject to game time changes)
Komarov – Aucoin – Abbott
Kadri – Colborne – Scott
Hamilton – Zigomanis – D'Amigo
Deschamps – Acton – Ashton
Frattin
DEFENSIVE PAIRINGS 
Gardiner – Kostka
Fraser – Holzer
Ranger – Gysbers
***
Scrivens to break out this new bucket for tonight's game. Thoughts?