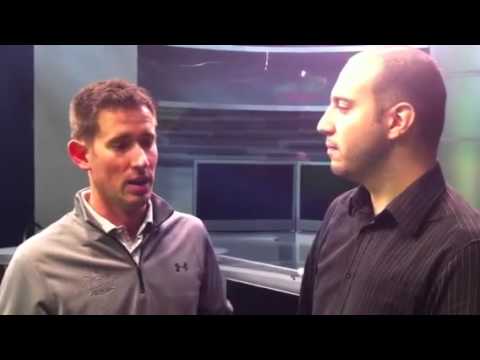 The AHL season doesn't really feel like the AHL season until the first edition of the AHL Battle of Ontario. And while we had to wait until early December last season, both Hamilton and Toronto will host the other this weekend.
That's right, it's a home and home; AHL rivalry style.
Including the two preseason meetings (which Toronto won both) the Marlies and Bulldogs will square off 14 times this season, including a pair of home & home contests.
For those who want the low down ahead of the game, here are my notes (saying that kinda feels like a study group in highshcool):
Greg Scott scored six goals against the Bulldogs last season, plus the game winner during the preseason
Toronto's power play operated at a 20.9% efficiency against Hamilton last season
Ben Scrivens notched a 6-3 record against the Bulldogs with a goals against average of 2.0 last season
Head coach Dallas Eakins noted that all three Toronto goaltenders may see action this weekend
This weekend will mark the first of five three-in-three weekends for the Marlies
Toronto has yet to register an even-strength goal, having scored all three on the powerplay so far
Tune into Friday's game by listening in on AHL Live. Marlies play-by-play man Jon Abbott (@HockeyAbbs) will be at COPPS Coliseum well ahead of the 7:30 puck drop, and will be the first to know of any last minute lineup changes. Looking ahead to the weekend, Saturday's game will be broadcast on Sportsnet One and Sunday's on Leafs TV.
Paul Ranger did not play in Sunday's game against Lake Erie and practiced for the first time on Thursday. It is unsure whether he will be ready for action this weekend.
As always, you can find me on twitter (@chansler) as I will post lineup decisions and notes as they become available heading into Friday's game.
EXPECTED MARLIES LINEUP
IN GOAL: #30 Ben Scrivens
FOWARD LINES
Hamilton – Aucoin – Zigomanis
Kadri – Colborne – Komarov
Ashton – McKegg – Scott
D'Amigo – Acton – Deschamps
DEFENSIVE PAIRINGS (Game Time Decision)
Gardiner – Kostka
Fraser – Holzer
Gysbers – Yeo
Blacker