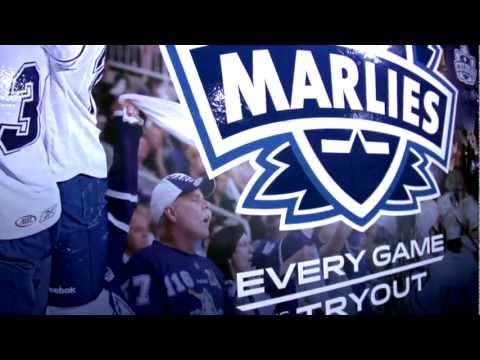 So here we go, one more game and we will have all made it through our first three-in-three of the season. The more of these I experience, the more respect I gain for the players.
Thankfully for us all, this is one of only five this season. So we're 20% of the way through.
Sunday brings with it a game against the Grand Rapids Griffins – AHL affiliate to the Detroit Red Wings. This is one of four meetings between the two clubs, half as many as last season as the Griffins jumped divisions to join the Midwest. The four game series will climax on December 30th in Michigan as the two teams take to the outdoor ice as part of the AHL Outdoor Classic.
But that's then, this is now. Here are my notes ahead of today's 3pm game ::
Marlies had the slight advantage in last season's set, notching a 4-3-1 record against Grand Rapids
Nazem Kadri lead the team with six goals last season against Grand Rapids, spanning five of the eight meetings
Jussi Rynnas was 2-1 against the Griffins last season, allowing 10 goals over those three games
Kenny Ryan comes off a two goal effort on Saturday, while Keith Aucoin contributed 3 points
Defensive partners Jake Gardiner and Mike Kostka lead the team with 18 shots on goal each
Grand Rapids has sputtered out of the gate and continues to search for their first win
The Griffins roster features former Marlies defenceman Brennan Evans
Keep an eye out for second round pick – and former Memorial Cup winner – Tomas Jurco who is amidst his rookie season
All the fun will kick off at 2:30 when Leafs TV hosts their pre game show. As the puck is dropped at 3:00, keep your eyes trained on Leafs TV for all the action. Those of you with an XBOX can tune in using the Real Sports app on XBOX Live. If internet streaming is more your style, be sure to log into AHL Live where you will be greeted by the friendly voices of Jon Abbott (@HockeyAbbs) and Bob McGill (@bigdaddymcgill). If you want to kick it old school and listen to the play-by-play over the airwaves, TSN1050 will be where you'll want to tune your radio dial.
Don't forget, you can find me on twitter (@chansler) and feel free to ask me any question that may roll across your mind. If you're not up for question asking, then tune in for lineup decisions and notes as they become available.
EXPECTED MARLIES LINEUP
IN GOAL: #40 Jussi Rynnas
FOWARD LINES
Hamilton – Aucoin – Deschamps
Komarov – Colborne – Zigomanis
Kadri – McKegg – Scott
Ashton – Acton – Ryan
DEFENSIVE PAIRINGS
Fraser – Holzer
Gardiner – Kostka
Yeo – Blacker