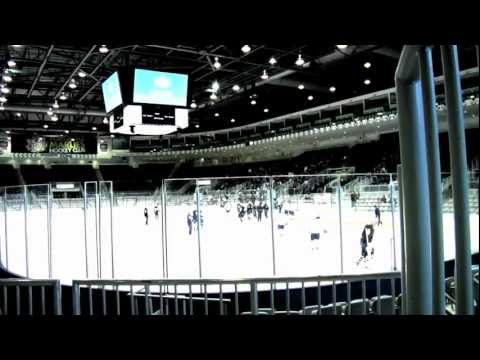 I was always a fan of TV mini-series.
A television show (sitcom, drama or otherwise) which ran a half season would consist of 13 episodes. To put that into context; including two preseason meetings, the Toronto Marlies will face the Hamilton Bulldogs 14 times between October and April. This has enough content to be a prime-time Emmy award winner.
QEW rivals Toronto and Hamilton square off in their first of 14 meetings – which also happens to kick off both of their preseason schedules – Saturday at 7:00pm in Cobourg.
Looking back over last season's battle, the key stats play out something like this:
Marlies won 8 of 12 meetings versus the Bulldogs
Both Ben Scrivens (6-3) and Mark Owuya (2-1) both averaged 2.00 GAA
Greg Scott lead the Marlies with six goals against Hamilton, Mike Zigomanis was not far behind with five while both Ryan Hamilton and Nicolas Deschamps potted four
Marlies powerplay operated at a 20.9% efficiency while the team managed to kill off 49 of 56 penalties against
The biggest matchup between these two was no doubt hosted at Ivor Wynne stadium in the first edition of a Canadian AHL Outdoor Classic, where Toronto rolled over Hamilton by a deciding 7-2 score. What was dubbed the 'Steeltown Showdown' was one of three contests in which the Marlies defeated the Bulldogs by five goals.
In a most interesting, and very recent turn of events, former Toronto Marlies forward Darryl Boyce signed a Professional Try-Out (PTO) with the Bulldogs. Boyce was lost by the Maple Leafs organization when he was selected on waivers by the Columbus Blue Jackets. It is uncertain if Boyce will dress for either of the preseason games against the Marlies.
Follow me on twitter (@chansler) for lineup decisions and notes as they become available. Also be sure to lend your follow to Jon Abbott (@HockeyAbbs) Toronto's play-by-play announcer who will be in Cobourg as well. The Hamilton Bulldogs radio duo of Derek Wills (@dogsplaybyplay) and Al Craig (@alc17) will host the radio broadcast on am820.
EXPECTED MARLIES LINEUP
IN GOAL: #30 Ben Scrivens & #1 Mark Owuya (split)
FOWARD LINES
Ashton – Colborne – Abbott
Kadri – Aucoin – Scott
McKegg – Ryan – Ross
Devane – Crescenzi – Brenner
DEFENSIVE PAIRINGS
Gardiner – Kostka
Ranger – Blacker
Yeo – Gysbers