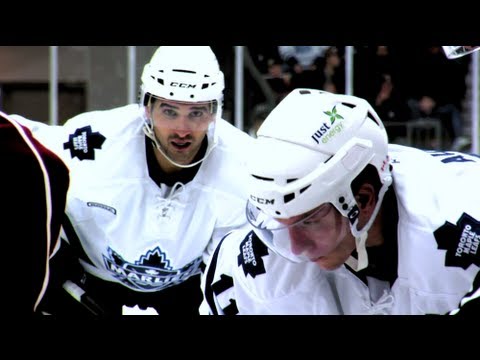 The boys are back in town.
The Marlies return home Saturday to face the Hamilton Bulldogs in what has begun to feel like a weekly affair. It's the fifth game between the two rivals of the fledgling regular season, with two more tacked on in preseason.
After battling hard to tie it on Friday, two goals in 34 seconds sealed the fate of the Marlies in the third period, giving the Bulldogs their first win in four games and handing Toronto their first loss in five. After having traveled to six different arenas and countless hotels and airports, hopefully the feeling of home ice and an encouraging crowd can rejuvenate what must be a tired group.
Here are my notes ahead of the game:
The Marlies powerplay has scored in five straight games
The Marlies are amidst their third three-in-three weekend; the team won the second game on both previous occasions
Following last night's game Dallas Eakins mentioned goaltender Jussi Rynnas is out with a lower body injury
Eakins also noted Matt Frattin may come out of the lineup for Saturday's game as he eases back into action
It's very possible Brad Ross, Greg McKegg, Nicolas Deschamps, Kenny Ryan, Jesse Blacker and Dylan Yeo could all return to the lineup on Saturday
Saturday's game will be broadcast on Sportsnet which means you'll be able to hear the ever-so-friendly voices of Joe Bowen and Greg Millen as they call the action at Ricoh Coliseum. If radio is more your style, be sure to catch the Marlies regular broadcast tandem of Jon Abbott and Bob McGill on AHL Live where the audio feed is always free.
I'll spare you having to look at my ugly mug on camera, but for the latest lineup news and notes be sure to lend me your follow on twitter (@chansler) as I'll make them available as they're released.
EXPECTED MARLIES LINEUP
IN GOAL: #30 Ben Scrivens
FOWARD LINES
Kadri – Aucoin – Komarov
Ross – Colborne – Deschamps
Hamilton – McKegg – Scott
D'Amigo – Acton – Ryan
DEFENSIVE PAIRINGS 
Gardiner – Kostka
Fraser – Blacker
Ranger – Holzer