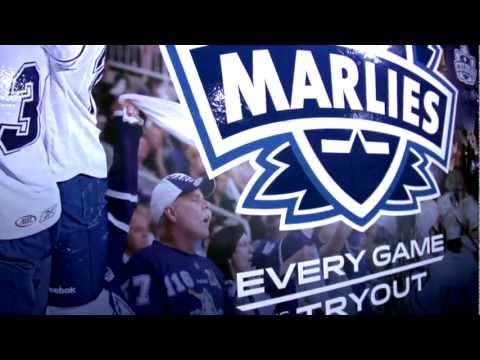 As Toronto prepares to host Hamilton for the first time this season, they also search for their first points against the QEW rival.
The Bulldogs took game one of the home-and-home set on Friday by a score of 4-1, notching three unanswered tallies before Toronto posted one. Louis Leblanc, playing on a line with former Marlies forward Darryl Boyce, scored a pair of goals.
So with that out of the way, what are we waiting for? Let's get at this:
Toronto has posted 40 shots in the past two games and allowed a total of only 48 against over the past two games
After averaging approximately 48 penalty minutes a game when facing each other last season, Friday night's game had only 28 over a total of 14 infractions
Jake Gardiner scored his second of the year in Hamilton on Friday, tying him for the team lead with Ryan Hamilton
Gardiner lead both teams in shots with six
Boyce registered two assists on Friday for Hamilton
Please note (and this is very very important… very); tonight's game time has been changed to 7pm. So if you're coming to Ricoh for the game, or ordering pizza and wings at home, make sure to plan around a seven o'clock puck drop.
Which brings me to my next point; tuning into the game. In efforts to include everyone, today's Marlies game seems to be spread across every platform imaginable. Sportsnet will host the televised broadcast (a slight switch from Sportsnet One) while AHL Live will feature the online video feed. If audio is more your thing, TSN 1050 will carry the action over the airwaves and NHL Network Radio will carry the satellite version on Sirius 207 / XM 92.
If you flick on the tube you will be greeted by the always-friendly face of Paul Hendrick (@HennyTweets) and the voices of Joe Bowen and Greg Millen. Through the radio speakers listen to the always-witty Jon Abbott (@HockeyAbbs) and NHL veteran – and former Leaf – Bob McGill (@bigdaddymcgill).
And as always, you can find me on twitter (@chansler) for lineup decisions and notes as they become available.
EXPECTED MARLIES LINEUP
IN GOAL: #40 Jussi Rynnas
FOWARD LINES
Hamilton – Aucoin – Deschamps
Komarov – Colborne – Zigomanis
Kadri – McKegg – Scott
Ashton – Acton – Ryan
DEFENSIVE PAIRINGS
Fraser – Holzer
Gardiner – Kostka
Yeo – Blacker