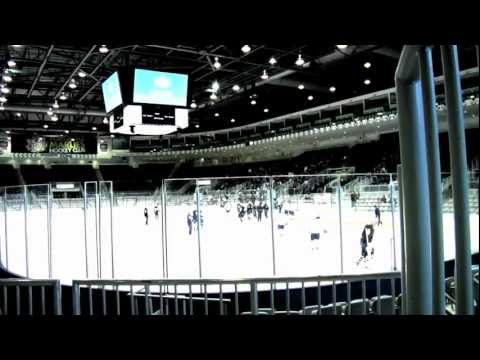 You've waited long enough, you may have the hockey season back now.
We are all just a little spoiled, don't you think? We were able to root for a team right through the middle of June. That said, the symptoms associated with mid-August hockey withdrawal didn't seem any less torturous. Making us all that much more appreciative that hockey is back at Ricoh.
This should make for a fun season.
The Marlies start right where they finished last season; at home. With the opening of the 2012/13 season, Toronto will play host to the Rochester Americans, American Hockey League affiliate to the Buffalo Sabres. Game time is 5pm and here are a couple points to keep in mind gathered from last season's games against the Amerks.
Get your pencils out (there will be a test at the end):
Toronto took the ten game series with seven victories, two losses and a shootout loss; collecting 15 of a possible 20 points
Ben Scrivens was 4-2-0-1 with a 2.57 GAA while Mark Owuya was an impressive 3-0 with 1.00 GAA and a single shutout; Jussi Rynnas did not face Rochester
Nazem Kadri lead the team with four goals against the Amerks, while Mike Zigomanis and Greg Scott both had three
All ten regular season games were won by just a single goal
Toronto notched their first ever playoff sweep against the Americans in a first round meeting against Rochester; Marlies outscoring the Americans 11-6
There will be next to no excuse as to why you can't tune into the game as it seems to be broadcast just about everywhere. Tune into Sportsnet One for live television coverage of the game or online through AHL Live. If radio is more your thing, TSN1050 will be live from Ricoh with everyone's favourite play-by-play announcer, Jon Abbott (@HockeyAbbs) with colour commentary from Bob McGill (@bigdaddymcgill). You can also listen to the game on NHL Radio Sirius 207 / XM 92.
Follow me on twitter (@chansler) for lineup decisions and notes as they become available.
EXPECTED MARLIES LINEUP
IN GOAL: #30 Ben Scrivens
FOWARD LINES
Ashton – Aucoin – Kadri
Komarov – Colborne – Deschamps
Hamilton – Zigomanis – McKegg
D'Amigo – Acton – Scott
DEFENSIVE PAIRINGS
Gardiner – Kostka
Fraser – Holzer
Ranger – Blacker