We've narrowed down all of your entries to the top-ten. Vote on your favourite using the Marlies.ca poll on the homepage until Friday, when the leading entry will be chosen.
I've got the itch.
I remember this feeling. Following my first year, in which the team had failed to make the post-season, it set in by early May. It was nearly five months of scratching.
Now after experiencing one of the AHL's two longest 2011/12 campaigns, and subsequent recovery, I'm getting the itch to be back. Back to early mornings at the rink, runny noses caused by the cold arena air, the excitement that wells up inside when the teams take to the ice and the awe felt as they work their craft over the 200 foot surface.
I was asked to sift through all of the Push to the Playoffs footage on Friday and I think that's what really sparked it. I stayed late putting together some never before seen footage, packaging it in a short video titled We Miss Hockey Too.
My mind rolled through the footage even after leaving Leafs TV; remembering the four weeks leading up to the playoffs, the sit down interviews with the team's brightest talents, the growing anticipation of what lay ahead.
Now that I look back, it is incredible to see the confidence shared throughout the dressing room. Although we knew the amount of talent on that team, they alone knew how far they could take it.
I headed back into the station Sunday. My brain had spent the weekend concocting story lines out of the remaining material. There's not enough for another show – not even close. Plus, most of what was discussed in interviews is so incredibly dated. There is, however, enough for something.
I had remembered a comment by Nazem Kadri, one I had so desperately tried to include in the original show but had to later cut. He had spoken about how the team becomes a family and how he misses the guys when their separated for even a few days.
In the same conversation he boasted of Matt Frattin's talents. Joe Colborne had done the same shortly after and an unprompted Frattin opened up about the team's incredible ability to score and the chemistry with his line mates.
The following video was created from that discussion, conducted April 17th in Marlies Alley at Ricoh Coliseum.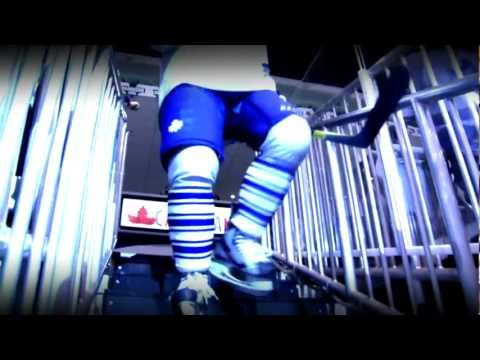 Here's the problem. I've been completely unable to come up with an adequate title. I didn't want it to sit on the shelf and so I put it up on YouTube as-is. I'm counting on you for a little bit of help.
Why not, right? You lived the season just as I did. You got to know the players, their abilities and characteristics. Aside from previously unused interviews, you can probably remember every other part of this video. I'll even go as far as to say you're likely more apt to come up with a catchy, clever name than I am.
So do me a favour, if you think of anything, jot it down in a blog comment, YouTube video comment or even a tweet.
I'm going to sift through the suggestions on Friday, August 17th, Tuesday, August 14th, and together we can pick an appropriate name for this video. The name will be used on the Marlies YouTube channel, Marlies.ca as well as the MapleLeafs.com video player.
Good luck… and thanks!
—
Update:  The response has been so great that we're going to cut submission off Tuesday evening. Wednesday morning the top-10 name suggestions will be posted on Marlies.ca and you can cast your votes on your favourite until Friday, August 17th.
Around noontime on Monday two unlikely suspects submitted their title ideas via twitter. We're not sure if they'll make the top-10, but I thought it funny enough to share.