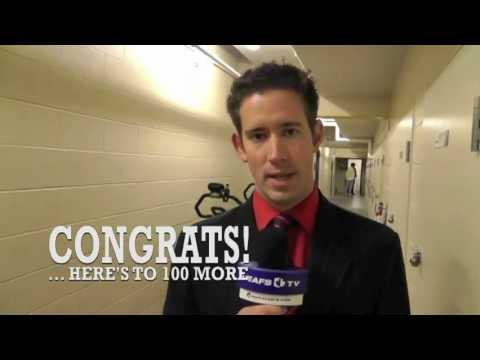 First off I'd like to dispel any rumours that Jon Abbott has turned 100, that's just preposterous (the video for that would have to be much better). No, rather he crossed 100 games called with the Marlies this past week.
While the team fought from behind to tie and eventually win in Houston, our good friend Jon Abbott was sitting in front of the Marlies microphone for the 100th time. All of us wanted to make sure we recognized this feat, and not just those at Marlies headquarters. Many sent along your tweets to Jon, congratulating him on this benchmark.
Congrads to such a hardworking, passionate guy on his 100th game called with the #Marlies !! Here's to 100 more @hockeyabbs!! #MarliesLive

— SmileeJenn (@LeafsJenn) November 11, 2012
As the 3rd period starts, a huge shout out to @hockeyabbs who called his 100th game on Thursday. Truly has become the voice of the Marlies.

— Mark R (@MarkUkLeaf) November 11, 2012
Congrats to the voice of the Marlies Jon Abbott on calling his 100th game! #MarliesLive

— Jamie (@LeafsNationFan) November 11, 2012
Rip-roaring #sticktap for Jon Abbott! Called his 100th #Marlies game on Thursday for Marlies win over Aeros. Congrats! #beauty #MarliesLive

— Erin (@idigsaves) November 11, 2012
A huge congratulations to @hockeyabbs on calling his 100th Marlies game! Looking forward to 100s more Jon! #voiceofthemarlies #MarliesLive

— Alexia Mullen (@SimplyUltraBlue) November 11, 2012
Big shout-out & congratulations to @torontomarlies play by play extraordinaire @hockeyabbs who has called his 100th game! #MarliesLive

— Amanda Stavrou (@AmandaStavs) November 11, 2012
@hockeyabbs Congratulations, Jon!!Keep doing what you do.. #MarliesNation appreciates you so much!!Cheers! @leafsjenn

— Paula Sullivan (@Paula_Sullivan) November 11, 2012
Let the history books read that Jon Abbott is only the second Marlies broadcaster to hit this benchmark (the footnote however states there have only been two full time Marlies broadcasters).
All joking aside, Jon works day and night researching the opposition, interviewing the Marlies, working with Leafs TV and – when there's time for it – sitting down for the latest #LobbyTalk features which connect you with your favourite players. He is a tremendous colleague, and an all around pleasure to be around. If you get the chance, shoot Jon a tweet (@HockeyAbbs) congratulating him on his accomplishment.
Here's to 100 more, Abbsy… now get back to work!