It's two wins in two nights for the Marlies as they continue through their second three-in-three of the season, Friday's coming in a more decisive fashion than the first. But who's keeping track?
Jussi Rynnas notched his second shutout in three games and Leo Komarov now has three goals in the first two games of the weekend.
And as the Marlies did everything they could on the ice to ensure success, I noticed a new trend develop amidst all of us back in Toronto rooting for the boys in blue. A series of letters were written using 140 characters or less. Some of you thanked the post while others cursed it. More still wrote to the hockey gods presiding over Friday's game.
Topic matter aside, I found them fairly amusing and was amazed at how they caught on through the course of the game. I set aside a few of my favourites.
Dear Goal Post, Thank you. Signed, This #Marlies Fan #MarliesLive

— Erin (@idigsaves) November 10, 2012
Dear Goal Post, You're Doing It Wrong. Signed, This #Marlies Fan #MarliesLive

— Erin (@idigsaves) November 10, 2012
Dear Hockey Gods : thank you for being so good to my boy Rynnas tonight !! You are amazing!! #MarliesLive #Marlies

— SmileeJenn (@LeafsJenn) November 10, 2012
Dear hockey gods, Thank you for giving us Jussi Rynnas and for giving him insane skills. Signed, Amanda. #MarliesLive

— Amanda Yu (@AmandaYu28) November 10, 2012
That's a shutout win, folks. 3-0 in Texas. Your 140 character letters worked. Signed #MarliesLive

— Toronto Marlies (@TorontoMarlies) November 10, 2012
I'm not one to judge superstition, heaven knows I have my own series of odd habits and rituals. So after two victories, all I can ask is that you don't change. Not one thing. If you wore goofy flannel pyjamas for the game, I urge you to slip into them again tomorrow. Notice that your dinner consisted solely of popcorn and pretzels? Well, sorry chum but you'll have to buck up and indulge in the same meal tomorrow.
Cause if you do, this might happen.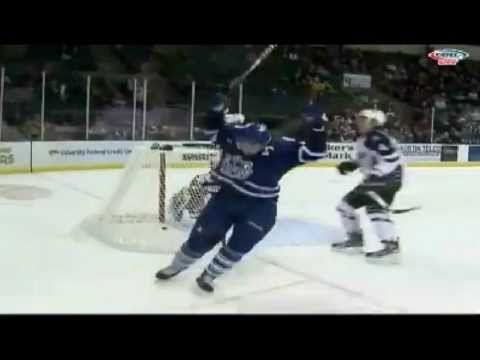 Sound good? Tonight's game was fun. See you back again Saturday for another round of #MarliesLive.