It was a special afternoon for the Marlies as the team made their annual visit to SickKids Hospital on February 19th, where they spent the afternoon playing BINGO with the patients and making new friends.
The visit to SickKids Hospital has become an annual tradition for the team, one that both the hospital and the team looks forward to each year. The visit started with introductions from Susie Petro, Child Life Specialist at SickKids, describing the day to the team in the Bear Theatre, where the centre of the BINGO action would be taking place. While some kids would be coming to the Theatre to participate in the game, Susie explained that some would be unable to leave their wards so would be playing along on CCTV. The team was divided into groups and assigned to the various wards so that all the kids would be able to chat and interact with their hockey heroes.
Jerry D'Amigo and Kenny Ryan were BINGO veterans so volunteered to be the MCs for the game along with broadcaster Todd Crocker. They were tasked with the very important job of drawing the BINGO numbers and displaying it on the screen for all of the participants.
Korbinian Holzer played camera man for all of the patients playing along, while Garret Sparks was on phone duty. Bingo winners playing in other wards would phone in so that they could claim their prize. The lucky winners got to take home a variety of awesome Marlies prizes that the team brought along.
D'Amigo was so excited for the Bingo winners that he just had to do a dance: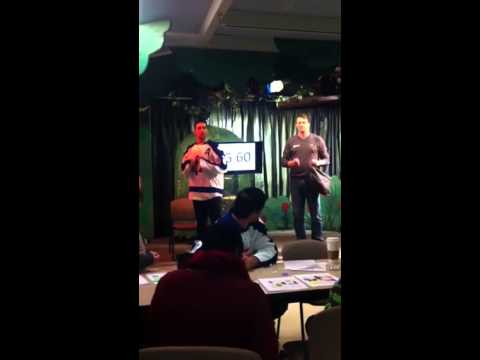 Following the game, Kenny Ryan, Jerry D'Amigo and Brad Staubitz visited each ward to deliver prizes for winners who were unable to come down themselves. The prizes were a bonus, but just being able to meet and chat with their favourite hockey players was an exciting experience in itself and offered a distraction from day-to-day life at the hospital. It was evident that something as small as a few minutes of their time and attention went a long way. Brad Staubitz even stayed behind following Bingo had concluded to play air hockey with a patient who had challenged him earlier in the day.
The team left at the end of the day inspired by the strength and smiles that they witnessed throughout the day and are looking forward to seeing their new friends soon.
To find out more about SickKids Hospital in Toronto visit: http://www.sickkids.ca/